Annual Special Services
Ash Wednesday
A joint service with Westminster Presbyterian Church, the University of Dubuque, and the University of Dubuque Theological Seminary is held on Ash Wednesday. Communion and the imposition of ashes are part of this combined worship service. The site for the worship service rotates between the participants with First Presbyterian Church hosting the 2011 Ash Wednesday service on March 9.
Lenten Evening Services
In the evening of the five Sundays following Ash Wednesday, FPC holds a Lenten service lasting about 40 minutes. We gather for worship at 7 p.m. These quiet meditative worship services incorporate Scripture, music, silent prayer, a reflection, and communion. Worshipers are invited forward to receive the elements by intinction (bread is dipped into the chalice). Childcare is provided. Come join us, and receive Christ.
Maundy Thursday
We invite you to join us for our Maundy Thursday Service of Tenebrae with Holy Communion on April 21st at 7:00 p.m. This communion service draws attention to the final days of Holy Week. By gradually reducing light, the service symbolizes the approaching crucifixion and shadows of the cross. At the table, we commune with Christ and one another. Please plan to attend this meaningful service leading to the returning light of Easter! Childcare is provided.
Easter Sunrise
In the early morning, we gather to declare the good news of Easter: Jesus Christ is Risen! Alleluia! Not only is there life after death, but through the life, death, and resurrection of Jesus Christ we have new life now, before death!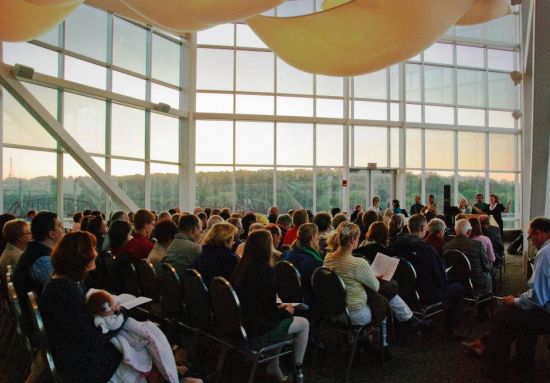 We welcome all to celebrate Easter morning. This year we celebrated in the River Room and the Grand River Center with a joint service including GracePoint Church, the UD community, First Baptist and FPC.
Christmas Eve
Our Christmas Eve service will be held on Dec. 24 at 5:00 p.m. Come join us for a service of lessons and carols as we prepare for the coming of the Messiah. We will receive the Joy Offering. Nursery care is provided.